Investment Management
Merrion Investment Management Company
Investment Management
Merrion Investment Management Company (MIMCo) is an SEC-Registered Investment Advisor specializing in separate account management. MIMCo's goal is to understand the specific investment needs of each client and deliver results that consistently exceed expectations. Led by a team of experienced investment professionals, the MIMCo advantage includes:
• A fundamental "bottom up" approach to investing with a focus on opportunities across the capital structure.
• A commitment to client service with direct access to MIMCo leadership and dedicated relationship managers.
• Implementation of a customized portfolio for each client tailored to meet their individual needs.
MIMCo takes pride in its long-standing client relationships and the success of our Firm is driven by the success of our clients.
Investment Approach
MIMCO Investment Approach
Investing is about great ideas. Ideas are at the heart of very great investment opportunity. As an independent manager, our focus at merrion investment management is on finding opportunities beyond the radar of the Wall Street mainstream. It's our biggest edge.
Our objective is simple: maximize total return. We do this by:
Identifying the best ideas across asset classes
• Investments include common and preferred stocks, taxable and tax-exempt debt, and options
• Concentrated portfolios of 15-25 positions
• A willingness to hold cash until opportunities arise
Applying an independent long-term point of view
• The ability to invest anywhere in the capital structure
• Using a value-oriented philosophy to foster capital appreciation and income generation
• Taking ownership of our investment decisions, not delegating to outside managers
The result is an investment firm with wide-ranging expertise, patience, and the ability to identify and capitalize on opportunities much larger firms cannot
Investment Process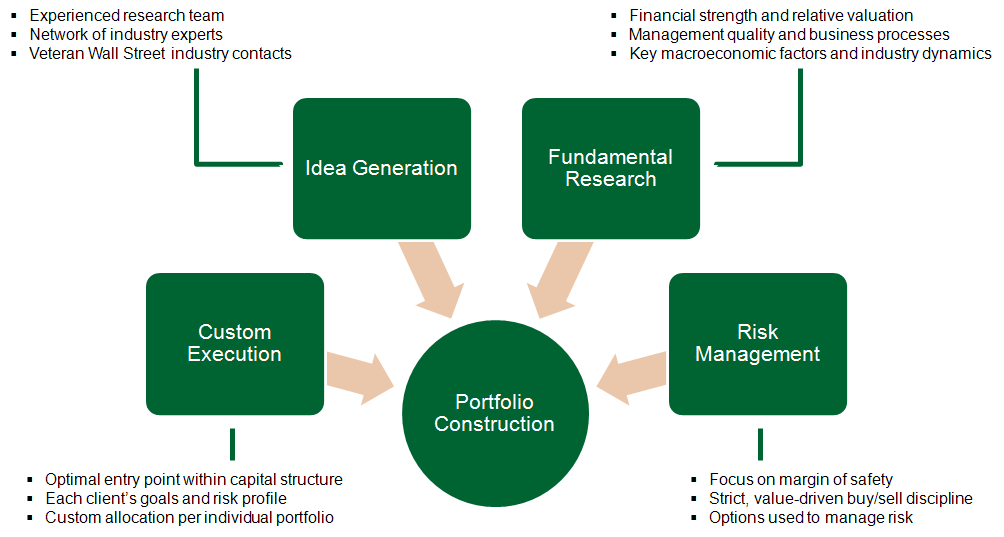 Merrion Investment Management Company
About Merrion
Founded in 1989 as a global bond trading firm, Merrion specialized in the entire universe of fixed income securities including treasuries, high grade bonds, high yield bonds, and distressed/bankruptcy opportunities.
As a research-based asset manager, Merrion Investment Management now incorporates the fixed income expertise from the Firm's foundation for the benefit of our clients.
Merrion continues to distinguish itself with high quality investment ideas and the core friends and family values with which we operate. Our clients are the reason we are in business, and we are committed to providing a truly personal experience with a distinctive level of service for individuals, families, institutions, and charitable trusts.
Bill Wigton
Founder and CEO
Bill is founder and Chief Executive Officer of Merrion Financial Group. He began his career as a Government Bond salesman at Morgan Guaranty Trust in 1970, was a member of the Morgan Stanley Fixed Income Department, and later became Senior Vice President of the Government Bond Department at Dillon Reed. Prior to forming Merrion in 1989, Bill was a General Partner of Lazard Frères & Co. Bill received his B.A. in Economics from Lynchburg College, and has twice served as Trustee of the College. Bill has also served as Trustee of the American Diabetes Association, Wardlaw-Hartridge School, Berkshire School, Hurricane Island Outward Bound School, and he is currently a Trustee of the Hillside Cemetery Association. Additionally, Bill was a former Dirtector of Maxcor International, Munn Bernhard Investment Management Co., and College Savings Bank.
Randolph C. Rogers
CFO/CCO
Randy joined Merrion in 2004 and is the Chief Financial Officer and Chief Compliance Officer. Prior to joining Merrion, Randy had been a Vice President in the Finance Department at Goldman Sachs. He is a past president of the Board of Trustees of the Wardlaw-Hartridge School. Randy received his B.A. in Economics from Williams College and his M.B.A. from New York University.
David E. Erb
Chief Investment Officer
David is Chief Investment Officer, and Portfolio Manager of Merrion Investment Management. Prior to joining Merrion, David was Managing Director, Corporate Development for Bank of America Commercial Finance (1995-2001). Prior engagements include leverage corporate finance investing for Bank of America (1991-1994) and institutional pension fund management for GE Investments (1980-1990). David received his B.A. in Mathematics and Economics from Colgate and his M.B.A. from New York University.
John Callahan
Managing Director
John joined Merrion in May 2012 and is a Managing Director of Merrion Investment Management Co. with a focus on marketing, customer relations and investment advisory. John has over thirty years experience in capital markets and asset management and held senior positions at major financial institutions including Credit-Suisse, Donaldson, Lufkin & Jenrette (DLJ), Goldman Sachs, and Salomon Brothers. He has significant experience in Leveraged Finance, Private Equity, Investment Banking, Marketing, and Asset Management. John earned a BA from Boston College and MBA from Fairleigh Dickinson University. He is a Chartered Financial Analyst (CFA) and a member of the New York Society of Security Analysts. John currently serves on the Board of St. Mary's Abbey/Delbarton School and the Normandy Beach Improvement Association.
Andrew Wigton
Managing Director
Andrew joined Merrion in 2001, and is currently a Managing Director responsible for retail and institutional sales trading. Since joining Merrion, Andrew has helped to create Merrion's Investment Committee and has been focused on researching long-term investment ideas. Andrew is actively involved in Merrion's investment strategies, and has been instrumental in growing the asset management businesses. Andrew received his B.A. in English and Philosophy from Colgate University.
Jocelyn Russo
Office Manager
Jocelyn joined Merrion in 2003 as Database and IT administrator. Prior to joining Merrion, she was Vice President of Facilities-Technology Division at Merrill Lynch from 1995 to 2003. She also worked for Nomura Securities from 1989 to 1995 as a senior systems administrator.